As medical experts in skin diseases, we provide evaluation and treatment of all your dermatologic needs. We help patients select the best treatment modality for their individual skin concerns. We emphasize patient education and skin cancer prevention. Our doctors are available to care for patients of all ages -- from pediatrics to geriatrics.
---
Medical Services
Acne

Rosacea

Wart Removal

Skin Cancers - Basal Cell Carcinoma / Squamous Cell Carcinomas / Malignant Melanoma

Mohs Surgery - Skin Cancer Reconstructive Surgery

Allergic Contact Dermatitis

Skin Rashes - Atopic Eczema / Psoriasis 

Mole Removal

Sun Spots

Nail Disease

Hair Loss
Minimize - Pre-Skin Cancers / Skin Cancers / Surgical Procedures
---
Sunscreen Use
Daily sunblock application is one of the easiest ways to help prevent skin cancer and aging.
Dr. Ettefagh and Dr. Nami both recommend broad spectrum sunblocks with UVA and UVB protection and an SPF of at least 30.
All sunscreens should be applied 15-20 minutes before sun exposure and reapplied after water contact and sweating. Some sunblocks can lose effectiveness after two hours, so reapply frequently.
Active ingredients of sunblock can be divided into chemical versus physical agents. Chemical sunblocks work by absorbing the energy of UV radiation before it affects your skin. Physical sunblocks reflect or scatter UV radiation before it reaches your skin.
Dr. Ettefagh and Dr. Nami prefer physical sun blocks. The two types of physical sunblocks available are zinc oxide and titanium dioxide. Both provide broad spectrum UVA and UVB protection and are gentle enough for everyday use. Because these physical agents are not chemical based, they are appropriate for sensitive skin, as they rarely cause skin irritation or burning of the eyes.
---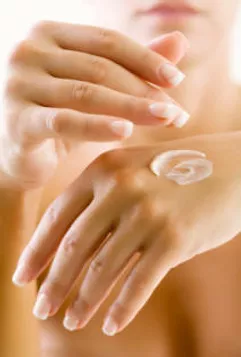 Patch Testing
For the diagnosis of contact allergy